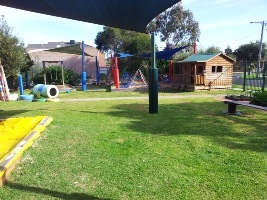 Outdoor Playground
Welcome to our Kindergarten.
The pre school years are the times of peak learning forming the basis of future educational achievements. The kindergarten year is probably the first stage in the child's formal education. The kindergarten program is based on an understanding of the progressive and cumulative changes that occur as the child grows. Skills, knowledge and attitudes are fostered individually but within a group setting. Teachers are always pleased to discuss your child's progress with you.
It is the policy at the kindergarten that children attending the centre will receive a pre school education which is based on the following principles:
Multiculturalism (fosters awareness /appreciation of all cultures)
Non violence
Gender equity (equality for all)
Term Dates 2021
Term 1

1st February - 1st April

Term 2

19th April - 25th June

Term 3

12th July - 17th September

Term 4

4th October - 17th December
Glen Oak Kindergarten aims to cater to the needs of the community by offering both three and four year old program. Three year old kindergarten totals 4 hours per week and four year old kindergarten totals 15 hours per week.
Glen Oak Kindergarten, where practical, involves the local community as much as possible via parent involvement, visits from a variety of community resource personnel and the organization of incursions and special events relevant to the current program.