Contact Us
Glen Oak Kindergarten
11 Watt Ave
Oak Park, VIC 3046
Entry via Harra Crt.
Telephone Number: 9306 7466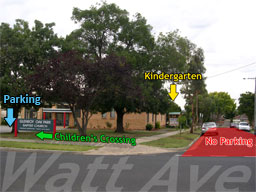 Outside the Kindergarten
View Larger Map
No Parking in Harra Crt
Please note that it is a condition of our council permit that we DO NOT use Harra court as Vehicular access.
If the car park is full, the council has provided us with a childrens crossing to enable parking in Watt Ave, as well as the other side streets.
There is a disabled parking spot available for eligible families to utilize when visiting the kindergarten.
Please do not park/or drop off in Harra court under any circumstances.