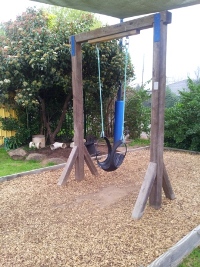 The swing and digging patch
Enrolment Information To Note:
Sending in an Enrolment Application Form is not a guarantee that a position will be offered.
Glen Oak Kindergarten has developed Selection Criteria which is used in determining first and second round offers for placement.
Glen Oak Kindergarten is not part of the Moreland City Council, Preschool Central Registration Policy. Families wishing to enroll their children must complete the Glen Oak Kindergarten Enrolment application form and return it directly to the kindergarten for processing. There is a non refundable fee that is required to be paid when submitting the application form.
Selection Criteria For Four Year Old Children;
Children who have received funding for a second year of kindergarten
Children who were eligible to attend in the previous year but either deferred or withdrew from the service on or before the last day of term 2
Children of previous families who have had siblings attend Glen Oak Kindergarten within the last 5 years
Date of Application
The final decision remains with the Committee of Management
Selection Criteria for Three Year Old Children
Families with a sibling already accepted into the 4 year old program for the same year that the family requires a place for 3 year of program
Families who had deferred placement from the previous year
Children of previous families who have had a sibling attend Glen Oak Kindergarten within the last 5 years.
Date of Application
The final decisions remain with the committee of management
Closing dates for applications
The closing dates for enrolment applications are as follows:
For children in the four year old program 1st June for first round offers & 30th August for second round offers
For children in the three year old program 1st June for first round offers & 30th August for second round offers